There is a 3% charge for every purchase you make abroad.
Find Southwest Rapid Rewards Plus credit card offers here
Chase Bank's Southwest Rapid Rewards® Plus credit card gives you one point for every dollar you spend. You can also earn double points for purchases made through Southwest and the hotels and car rental companies that Chase Bank offers. This Air Miles credit card offers a generous registration bonus for new cardmembers. If you spend $ 1,000 in the first three months, Chase gives you 40,000 bonus points, which is enough for an average round-trip ticket, although certain restrictions apply.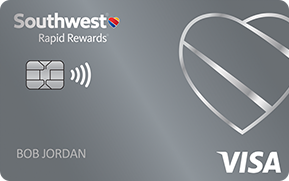 This mileage credit card lacks many of the travel benefits that the best airline miles credit cards offer to cardmembers. You won't get priority onboarding, VIP lounge access, in-flight discounts, or concierge service. The benefits of this card include no blackout dates, which could limit the usability of your points when booking your trip, and the ability to redeem your points for international flights. The best travel benefit this card offers is that your first and second checked bags fly for free.
Most of the important features you need when traveling are included in the Southwest Rapid Rewards® Plus credit card. If you use your card to buy your flight or other travel tariffs, you are automatically entitled to travel accident insurance, rental car insurance and a refund of lost luggage. In addition, this card offers roadside assistance around the clock, no liability or purchase protection.
This airline miles credit card does not offer an introductory annual percentage. However, the APR for purchases and balance transfers is respectable. If you use this card to make purchases or transfer funds, you are likely to be charged 17.99% - 24.99% of the APR for these transactions. In the case of cash transactions, the rate with a variable annual interest rate of 26.99% is higher.
With this card you do not receive an introductory annual fee exemption. Instead, you'll have to pay a $ 69 upfront fee to get the card, and then every year if you want to keep it. Other fees associated with this card are standard amounts. A fee of at least USD 10 or 5% will be charged for each advance you make. A fee of at least USD 5 or 5% will be charged for each transfer. A fee that is included on this card but does not include the Southwest Rapid Rewards® Plus credit card is the international purchase fee. If you use this card when traveling overseas, you will be charged a 3% fee for each purchase.
Chase can be contacted by phone for support for members. You can also email the bank through your online account to ensure that shipping is safe. You can access a list of frequently asked questions on the Chase website that answer many of the general questions you may have about your account or card benefits.
The Southwest Rapid Rewards® Plus credit card includes a free baggage check for first and second baggage, a nice sign-up bonus, and a respectable standard APR for purchases and transfers. However, you do have to pay an annual fee for this card, and it lacks some practical travel benefits that the best frequent flyer credit cards offer.