DAX forecast:
IG valued the DAX in the form of the CFD this morning above the closing price on Friday. The contract gained 1.08% on Friday, the cash market closed with a gain of 0.18% at 13,076 points. Wall Street continued to rise, with the S&P 500 index slightly exceeding its last all-time high. The specifications from Asia are positive this morning.
DAX FORECAST FUNDAMENTAL
The RKI reports an increase in new infections by 10,824 for Sunday, 62 people have died. 166,555 new infections were reported in the United States, and 1,266 people died. The federal government is considering further, light measures to curb the increase in infections. So far, no regulations are known in the USA, but school closings are also being discussed there.
Meanwhile, markets are reacting positively to the data from Asia. Both Japanese GDP as of Q3 and industrial production from China as of October have exceeded analysts' expectations. However, China's retail sales were slightly below expectations. There isn't much going on on the economic data front this week, see below.
Mon:
JAP GDP Q3 / industrial production Oct.
China Industrial Production / Fixed Investment / Retail Sales / AQ
Tue:
United States Retail Sales Oct.
USA industrial production Oct.
API inventory data
Wed:
GB VPI / EPI Oct.
EU CPI Oct.
USA Building Permits / Begins Oct.
EIA inventory data
FOMC Williams, Bullard speech
Do:
UK Retail Sales Oct.
EU ECB Lagarde speech
EU meeting (Brexit deadline)
USA Philly FED Manufacturing Index Oct.
United States jobless claims
USA Existing Home Sales
Fri:
JAP VPI Oct.
China PBOC interest rate decision
DE EPI Oct
EU consumer confidence Nov
The new Brexit deadline expires on Thursday with the EU meeting (EUR / GBP: British pound remains a political powder keg). If no deal is found by then, it could lead to slight uncertainty, but the market is already expecting a deal, even if it comes later.
December 16 is another deadline, and possibly the last one where a deal could be reached before the end of the year. The negotiations could thus continue until then. Otherwise, the focus this week will be on the COVID developments.
Unexpected measures, especially in the US, could legitimately slow down the positive sentiment on the stock markets, at least temporarily. The quarterly season is over and should now be priced in. The market is now looking more to the future. And despite the prospect of a vaccine, it doesn't look very rosy for the current and coming quarters.
DAX FORECAST CHART
In terms of chart technology, the DAX Future started with an up-gap tonight. It would still have to overcome the short-term resistance at 13,300 points in order to pave the way for new recovery highs. This will be a task for the cash market today.
Will he make it. It should head towards gap close at 13,580-13,600 points. On the downside, the area at 12,900 points remains a good support, including the 100-day moving average at 12,600 points.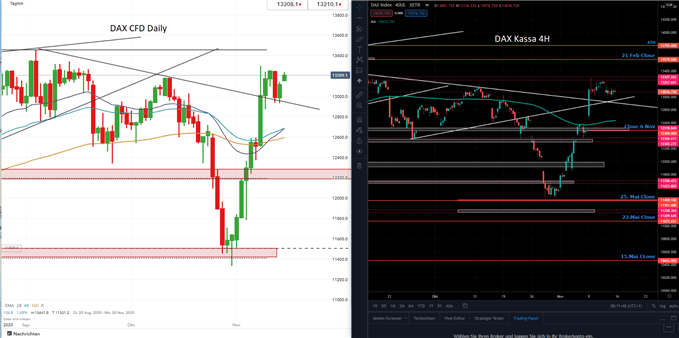 IMPLEMENTATION POSSIBILITIES WITH IG TURBO CERTIFICATES
If you are on the seller's side and think that the DAX will fall in the future, IG Turbo certificates with a knock-out threshold above the resistance zone at 13,500 points could be interesting. Conversely, bullish traders could keep an eye on knock-out thresholds below 11,000 points.
Options and turbo certificates are complex financial instruments and come with a high risk of losing money quickly. Losses can occur extremely quickly.