Three Arrows Capital co-founder and CEO, Su Zhu, took to Twitter to reveal the extremely precise Bitcoin price target. Zhu expects the largest cryptocurrency by market cap to reach $88888 in less than two months. We start with the recent tweets of Su Zhu and her friend and continue with Bitcoin's "Crypto Fear and Greed Index"…
Kyle Davies: Bitcoin wants super cycle
The owner of this tweet, Kyle Davies, is one of the co-founders of Three Arrows Capital. He is also CEO Su Zhu's high school friend. After Davies tweeted on August 20 that it "seems to want to "super cycle" Bitcoin's all-time highs," Su Zhu tweeted only the second time she wrote "BTC and "88888".
The market is in extreme "greed"
Apart from the predictions from earlier today, as moneyonezero.com reported, on August 21, Bitcoin reached a three-month high of $49,830 on the Bitstamp exchange and the bulls are now back in the driver's seat. Alternative.me's "Crypto Fear and Greed Index" is now at 78 after entering the "extreme greed" area. Still, the index is still far from the 95 peak reached in February.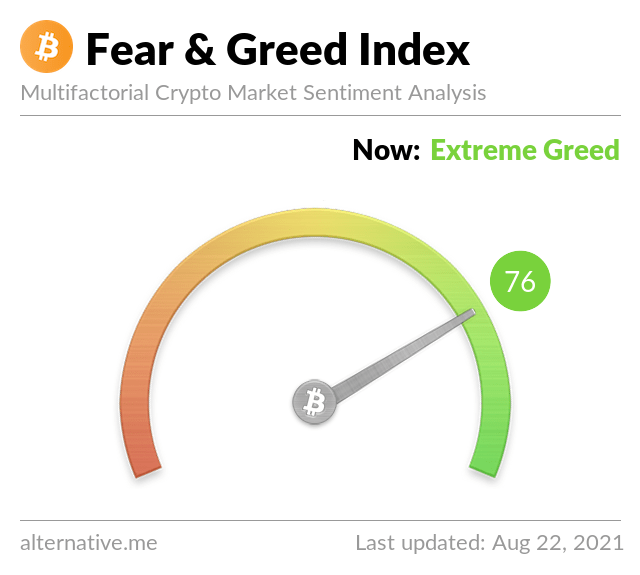 CEO Zhu's long-term Bitcoin goal
When it comes to long-term price predictions, Zhu said in an interview with UpOnly in late February that it would be "absolutely possible" for Bitcoin to reach $2.5 million in the future if gold smashes market share as the leading store of value. :
Then you've already reached half of $100 trillion and that will get you $2.5 million per BTC, and I think it's definitely possible.
The story of Zhu and Davies
Zhu started Three Arrows Capital in their apartment with his former high school classmate Davies in 2012. After initially working with emerging markets, the hedge fund turned its focus to crypto and turned its founders into billionaires. Three Arrows Capital has invested in Bitcoin, Ethereum, Dogecoin, Avalanche, as well as a number of DeFi protocols (Aave, Balancer, SushiSwap, among others) and cryptocurrency companies (BlockFi, Deribit, among others). In May, Davies told Bloomberg that its flagship altcoin, Ethereum, is the firm's largest cryptocurrency holding.